THE ANNUAL Harvest Festival at Hanbury First School went online for the first time yesterday.
Social distancing and safety measures meant staff and children were unable to meet at the local church as they usually do so they took to Zoom in their class bubbles.
Rev Morris paid the school a visit to bless the impressive collection of food donated by the Hanbury School family.
He was amazed at how much had amassed, assuring everyone local people in need would benefit when the items were donated to the Droitwich Foodbank.
The vicar then accompanied Reception Class on their first adventure out of school – a visit to church.
They had a wonderful time exploring the building and making themselves familiar with a setting that hopefully they will visit with the rest of school many times in the coming years.
Their recorded performance of 'The Enormous Turnip' was the first feature screened in the online Harvest Service. Teachers commented how they had learned the story so well.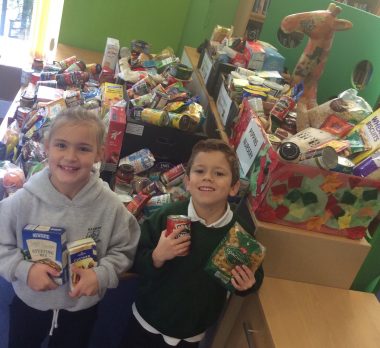 Next came year one's wonderful rendition of 'Gather Up Lots of Pears' while year four told the 'Parable of the Sower' – the story about the seed falling on the rich soil, rocky ground, the path or the thorns and weeds urged everyone to consider what kind of heart they had and how God would like them to live.
Year two's reciting of the poem 'Fruit Salad' delighted those watching before year three's celebratory version of 'What a Wonderful World' was screened.
The service was rounded off in style with a signed version of 'Harvest Samba' from year four, along with a prayer written by Isabel.
It read:
Dear Lord,
Thank you for the rain and the sun to make crops grow.
Thank you for the moonlight and the sunlight that keeps us going.
Thank you for the animals and the food and the beautiful world.
Amen.
Headteacher Andrew Payne said: "We are very lucky to come to school in the glorious Worcestershire countryside.
"We are glad we were able to find a way to come together and say thank you for all the wonderful things we have in our world – the food, our friends, our families.
"We know that sadly, sometimes people can be having a difficult time in their lives, so felt it was important to also share with people we may never meet by donating to the Harvest collection.
"Thank you to everyone who brought in a donation – we are proud to support Droitwich Foodbank, who will be collecting your gifts this week."