Mirror Mirror on the wall who is the fairest of them all?
Will Snow White manage to escape from the evil Queen Avarice and her henchman Slurp and marry our hero the handsome Prince Ferdinand of Farawaia?
Well we can't wait to find out at the Norbury Theatre in Droitwich on:
Friday 18th – Sunday 20th February
Thursday 24th – Sunday 27th February
Thursday 3rd – Saturday 5th March
Maybe with the help of Chuckles the Jester, Edna Bucket and her seven new friends good will win over evil.
Add to this the incompetent due Justice Quill and Scribbles and Fairy Good Fortune to help Snow White win the day, as well as a wonderful chorus of villagers.
The newly revised script based on the original Grimm Brother's tale includes all the well-loved ingredients of traditional family pantomime.
Featuring ENTW9 Dance School.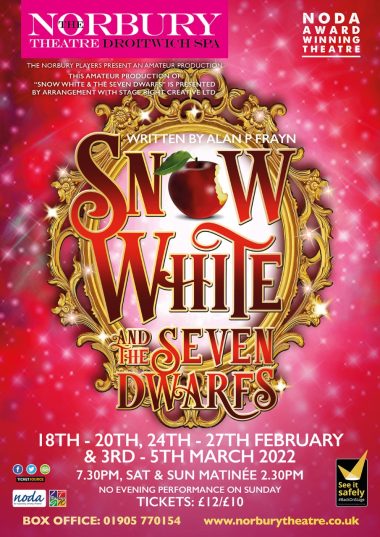 Snow White and The Seven Dwarfs is by Alan P Frayn and presented by the Norbury Players present.
This amateur production of 'Snow White and the Seven Dwarfs' is presented by arrangement with Stage Right Creative Ltd.
This post is Sponsored by the Norbury Theatre.